The 1971 Eisenhower Dollar (Buy on eBay) was the first year of issue for the series. This release also represented the first dollar coin issued by the United States Mint since 1935, when the previous Peace Dollar series concluded.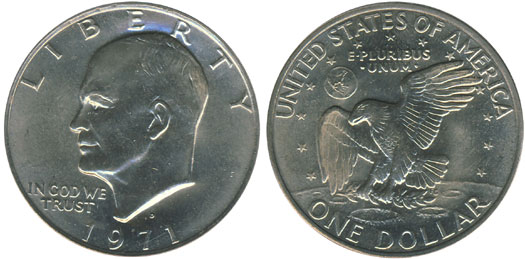 Trial strikes for the new dollar were prepared at the Philadelphia Mint on January 25, 1971 in an event open to members of the press. The trial strikes were produced from several trial working dies on 40% silver blanks prepared by the coiner. The first production strikes for the Eisenhower Dollar officially took place on March 31, 1971 at the San Francisco Mint. Production at the Philadelphia and Denver Mints commenced later in the year.
The coins struck at San Francisco were silver versions struck for collectors. Congress had authorized the production of up to 150 million of the new dollar coins struck in a composition of 40% silver over a four year period. Uncirculated versions were sold to collectors for $3.00 per coin, while proof versions were sold for $10.00 per coin. Orders were first accepted on July 1, 1971 with fulfillment beginning in early August.
The Philadelphia and Denver Mint struck the Eisenhower Dollars for general circulation, using a copper nickel clad composition. The first coins were released into circulation on November 1, 1971. Finding examples of these early clad Ikes in high grade can be challenging, particularly for the Philadelphia Mint strikes, which can exhibit weak strikes or heavy contact marks.
1971 Eisenhower Dollar Mintages
1971: 47,799,000
1971-D: 68,587,424
1971-S Silver: 6,868,530
1971-S Silver Proof: 4,265,234
Coin Specifications
Designer: Frank Gasparro
Composition: 91.67% Copper, 8.33% Nickel (clad), 40% Silver, 60% Copper (silver)
Weight: 22.68 grams (clad), 24.59 grams (silver)
Diameter: 38.1 mm
Edge: Reeded