Proof Eisenhower Silver Dollars were produced at the San Francisco Mint and sold to collectors individually from 1971 to 1974. These 40% silver coins are often referred to as "Brown Ikes" (Buy on eBay) in reference to the brown colored boxes within which they were packaged.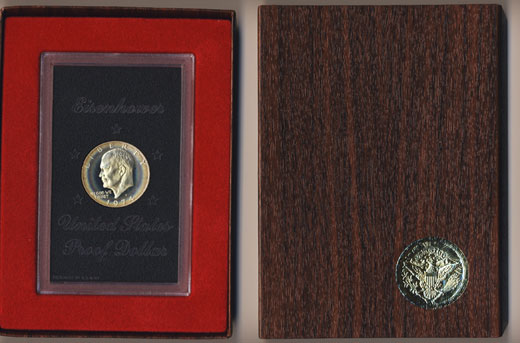 Coins were sold to collectors at an issue price of $10.00 per coin. This was a big premium to the uncirculated "Blue Ikes," which were offered for only $3.00 per coin. The proof coins were sealed in rigid plastic holders and placed within a brown box with red insert.
Many Brown Ikes which have resided in the original packaging will exhibit toning or discoloration. Most times, this appears as an unattractive, haziness or uneven milky tones. Sometimes the coins do exhibit attractive toning, which can occur with multiple colors or a bull's eye pattern.
The highest mintage Proof Silver Eisenhower Dollar was 1971, when over 4 million were sold. The mintages showed big declines after the inaugural year, reaching their low in 1973 when 1,013,646 coins were sold. This issue carries a premium above the other silver proofs.

< Blue Ikes | 1972 Varieties >