After two years of high production for circulation, the 1973 Eisenhower Dollar (Buy on eBay) was produced in limited numbers for inclusion in collector sets only. As a result, the 1973 and 1973-D coins having the lowest mintage amongst the clad circulation strikes of the series.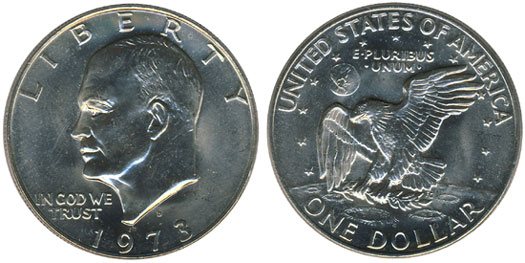 Approximately two million Eisenhower Dollars were struck by the Philadelphia and Denver Mints for inclusion in the 1973 Mint Set. A total of 1,769,258 of the sets were ultimately sold, so the remaining coins were destroyed. The Philadelphia Mint issue can be challenging to locate in high grade, while the Denver issue is generally found with a better strike and often deep luster.
The San Francisco Mint produced three different versions of the coin this year. This included uncirculated and proof versions struck in a composition of 40% silver. As in prior years, these coins were sold to collectors individually, priced at $3.00 for uncirculated coins and $10 for proof coins. Mintages for these offerings reached their lows this year. The San Francisco Mint also struck proof coins with the standard clad composition. These were included in the 1973 Proof Set, representing the first time the series was included in the annual set.
1973 Eisenhower Dollar Mintages
1973: 1,769,258
1973-D: 1,769,258
1973-S Silver: 1,883,140
1973-S Silver Proof: 1,013,646
1973-S Clad Proof: 2,760,339
Coin Specifications
Designers: Frank Gasparro
Composition: 91.67% Copper, 8.33% Nickel (clad), 40% Silver, 60% Copper (silver dollars)
Weight: 22.68 grams (clad), 24.59 grams (silver dollars)
Diameter: 38.1 mm
Edge: Reeded
< 1972 Eisenhower Dollar | 1974 Eisenhower Dollar >