The 1976 Eisenhower Dollar (Buy on eBay) featured a new reverse design issued to celebrate bicentennial of the American Revolution. The redesign of the denomination was authorized by Congress, along with the requirement that coins issued between July 4, 1975 and January 1, 1977 should carry the date "1776-1976" rather than the date of mintage.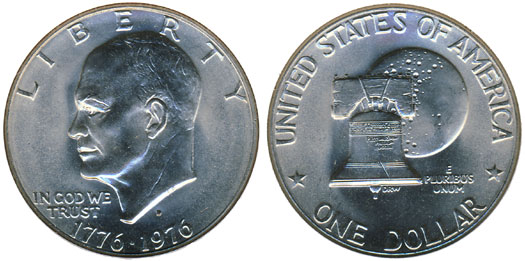 A national contest was held to solicit Bicentennial coinage designs from the public. There were 884 entries received with bicentennial designs for the dollar, half dollar, and quarter. The winning entry for the Eisenhower Dollar was submitted by Dennis R. Williams, who at the time of selection was a 22 year old student majoring in sculpture. He was awarded $5,000 for his design featuring the Liberty Bell extending over the moon.
The 1976 Eisenhower Dollars are found with two distinct varieties, identifiable by the style of lettering on the reverse of the coin. Type 1 coins use bold, block lettering, while Type 2 coins use thinner, more delicate lettering. The first type was produced primarily during 1975 and the second type during 1976. Among circulation strikes, the Type 1 variety is more difficult to find in higher grade, particularly for the Philadelphia issue.
Find images and more information on 1976 Eisenhower Dollar Varieties.
The San Francisco Mint also produced coins featuring the Bicentennial design. Authorization was provided to strike up to 45 million dollar coins in a composition of 40% silver. Proof and uncirculated versions of the Washington Quarter, Kennedy Half Dollar, and Eisenhower Dollar were produced and sold to collectors in 3 coin silver uncirculated or proof sets. Orders were accepted by the United States Mint starting November 15, 1974, with shipment beginning after July 4, 1975.
Clad composition proof Eisenhower Dollars were also struck at the San Francisco Mint. These coins were included in the 1975 and 1976 Proof Sets. The former sets contain the Type 1 variety and the latter sets contain the Type 2 variety coins.
1976 Eisenhower Dollar Mintages
1976 Type 1: 4,019,000
1976 Type 2: 21,048,710
1976-D Type 1: 21,048,710
1976-D Type 2: 82,179,564
1976-S Silver: 4,908,319
1976-S Silver Proof: 3,998,621
1976-S Type 1 Clad Proof: 4,149,730
1976-S Type 2 Clad Proof: 4,149,730
Coin Specifications
Designers: Frank Gasparro (obverse), David R. Williams (reverse)
Composition: 91.67% Copper, 8.33% Nickel (clad), 40% Silver, 60% Copper (silver)
Weight: 22.68 grams (clad), 24.59 grams (silver)
Diameter: 38.1 mm
Edge: Reeded

< 1974 Eisenhower Dollar | 1977 Eisenhower Dollar >