Regular production resumed with the 1974 Eisenhower Dollar (Buy on eBay) following the prior year when coins were only issued for collectors. The Philadelphia and Denver Mints struck coins for general circulation, while the San Francisco Mint struck three different versions of the coin for collector sets and individual sales.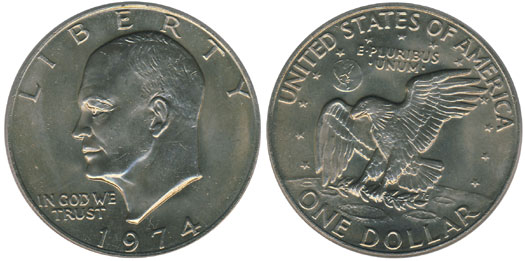 As with prior years, the Denver Mint coins are generally more available in higher grades than the Philadelphia Mint coins. A typical source for uncirculated examples of these coins are the 1974 Mint Sets, which sell for only a modest premium to the face value of the coins included in the set. Cherry picking may yield a set which includes an Eisenhower Dollar in gem grade or higher.
Silver composition dollar coins were once again struck at the San Francisco Mint in uncirculated and proof versions. These coins were individually packaged and sold to collectors at premium prices. As established in the prior year, the San Francisco Mint also struck proof coins in standard clad composition for inclusion in the annual proof set.
Notably, no Eisenhower Dollars were issued carrying the date 1975. Rather, the United States Mint began production of the redesigned Bicentennial coins dated "1776-1976".
1974 Eisenhower Dollar Mintages
1974: 27,366,000
1974-D: 45,517,000
1974-S Silver: 1,900,156
1974-S Silver Proof: 1,306,579
1974-S Clad Proof: 2,612,568
Coin Specifications
Designers: Frank Gasparro
Composition: 91.67% Copper, 8.33% Nickel (clad), 40% Silver, 60% Copper (silver)
Weight: 22.68 grams (clad), 24.59 grams (silver)
Diameter: 38.1 mm
Edge: Reeded
< 1973 Eisenhower Dollar | 1976 Eisenhower Dollar >