The 1977 Eisenhower Dollar (Buy on eBay) was issued in more typical fashion, following the proliferation of different varieties and compositions that had been available in the earlier years of the series. Coins were struck for circulation at the Philadelphia and Denver Mints and in proof version at the San Francisco Mint. The original reverse design was also restored.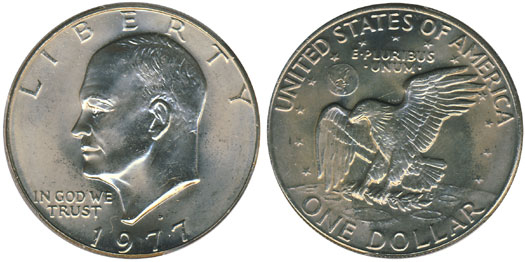 Quality of circulation strike coins vastly improved this year, with coins more readily available in gem condition across both the Philadelphia and Denver Mints. Coins are less available at the MS66 grade level, and scarce in MS67.
The San Francisco Mint produced proof Eisenhower Dollars in clad composition only. These coins were issued only as part of the United States Mint's 1977 Proof Set.
1977 Eisenhower Dollar Mintages
1977: 12,596,000
1977-D: 32,983,006
1977-S Proof: 3,251,152
Coin Specifications
Designers: Frank Gasparro
Composition: 91.67% Copper, 8.33% Nickel
Weight: 22.68 grams
Diameter: 38.1 mm
Edge: Reeded
< 1976 Eisenhower Dollar | 1978 Eisenhower Dollar >