The 1972 Eisenhower Dollar (Buy on eBay) marked the second year of issue for the series. Mintages for circulation strike coins rose from the previous year and would represent the highest levels with the exception of the later Bicentennial issues.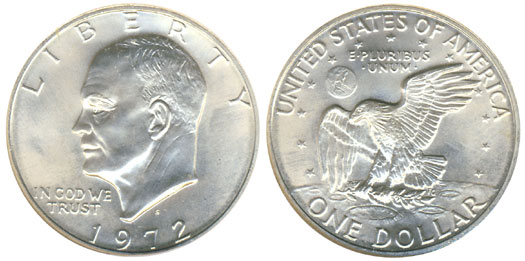 This year the Philadelphia Mint struck the coins with three different hub varieties. These can be identified by the appearance of the earth on the reverse of the coin. Variety 1 is the most common and has low relief dies and displays a flattened Earth. Variety 2 is scarce and has high relief dies, the Earth appears round and has weak islands. Variety 3 has modified high relief dies with a strengthened appearance of Earth. The major coin grading firms will attribute these varieties.
Find images and more information on 1972 Eisenhower Dollar Varieties.
Once again, the San Francisco Mint would strike coins with silver content for collectors, although demand would fall substantially from the prior year. These 40% silver coins bearing the "S" mint mark were sold to collectors in uncirculated or proof versions at premium prices. Sales registered at 2,193,056 uncirculated coins and 1,811,631 proof coins.
1972 Eisenhower Dollar Mintages
1972: 75,890,000
1972-D: 92,548,511
1972-S Silver: 2,193,056
1972-S Silver Proof: 1,811,631
Coin Specifications
Designer: Frank Gasparro
Composition: 91.67% Copper, 8.33% Nickel (clad), 40% Silver, 60% Copper (silver)
Weight: 22.68 grams (clad), 24.59 grams (silver)
Diameter: 38.1 mm
Edge: Reeded
< 1971 Eisenhower Dollar | 1973 Eisenhower Dollar >