The 1978 Eisenhower Dollar (Buy on eBay) marked the final year of the series, after only eight years duration. However, during this period, a whopping total of 34 coins were issued across clad and silver compositions and major varieties.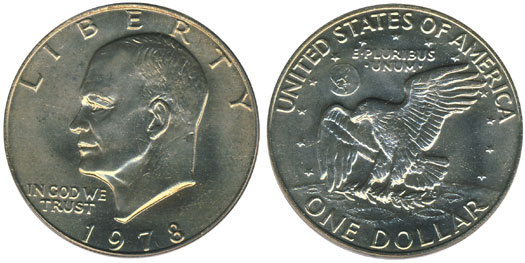 During the year, the Eisenhower Dollars were produced for circulation at the Philadelphia and Denver Mints. Mintages showed increases from the prior year, but remained well below the levels experienced earlier in the series. The 1978-S Proof Eisenhower Dollar was issued by the San Francisco Mint in clad composition for the annual proof set.
The following year, the dollar coin would be reduced in size and take on a new design featuring a famous figure from the women's suffrage movement. The Susan B. Anthony Dollar series would prove even shorter lived then than the Eisenhower Dollars with three years of issuance before production ceased, excluding the one year reprise for the series in 1999.
1978 Eisenhower Dollar Mintages
1978: 25,702,000
1978-D: 33,012,890
1978-S Proof: 3,127,781
Coin Specifications
Designer: Frank Gasparro
Composition: 91.67% Copper, 8.33% Nickel
Weight: 22.68 grams
Diameter: 38.1 mm
Edge: Reeded