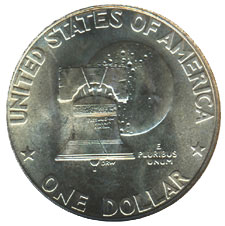 Eisenhower Dollars were struck for circulation at the Philadelphia and Denver Mints from 1971 to 1978. The highest mintage occurred in 1976, when more than 200 million coins were struck with the Bicentennial reverse design. The lowest mintages occurred in 1973 when the Eisenhower Dollar was only issued as part of the annual Mint Set.
A number of different versions of the coins were struck for collectors during the short duration of the series. In total, about 49 million collector coins were struck at the San Francisco Mint, including uncirculated and proof coins struck in a 40% silver or copper nickel clad. The silver coins were sold individually from 1971 to 1974 and as part of a 3 coin set in 1976. The clad proof coins were struck for inclusion in the annual Proof Set from 1973 to 1978.
The tables below present the mintage figures for Eisenhower Dollars including circulation strikes, uncirculated silver dollars, and proof coins.
Circulation Strike Eisenhower Dollar Mintages
| Issue Year | Mintage |
| --- | --- |
| 1971 | 47,799,000 |
| 1971-D | 68,587,424 |
| 1972 | 75,890,000 |
| 1972-D | 92,548,511 |
| 1973 | 1,769,258 |
| 1973-D | 1,769,258 |
| 1974 | 27,366,000 |
| 1974-D | 45,517,000 |
| 1976 Type 1 | 4,019,000 |
| 1976-D Type 1 | 21,048,710 |
| 1976 Type 2 | 113,318,000 |
| 1976-D Type 2 | 82,179,564 |
| 1977 | 12,596,000 |
| 1977-D | 32,983,006 |
| 1978 | 25,702,000 |
| 1978-D | 33,102,890 |
Uncirculated Eisenhower Silver Dollar Mintages
| Issue Year | Mintage |
| --- | --- |
| 1971-S | 6,868,530 |
| 1972-S | 2,193,056 |
| 1973-S | 1,883,140 |
| 1974-S | 1,900,156 |
| 1976-S | 4,908,319 |
Proof Eisenhower Dollar Mintages
| Issue Year | Mintage |
| --- | --- |
| 1971-S Silver | 4,265,234 |
| 1972-S Silver | 1,811,631 |
| 1973-S Clad | 2,760,339 |
| 1973-S Silver | 1,013,646 |
| 1974-S Clad | 2,612,568 |
| 1974-S Silver | 1,306,579 |
| 1976-S Clad Type 1 | 2,845,450 |
| 1976-S Clad Type 2 | 4,149,730 |
| 1976-S Silver | 3,998,621 |
| 1977-S | 3,251,152 |
| 1978-S | 3,127,781 |